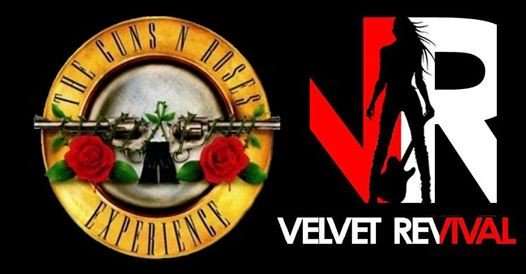 Guns n Roses Experience plus Velvet Revival
Guns N Roses Experience + Velvet Revival
£12
Entry Requirements: 16+ (ID Required)
With a true Guns N Roses sound and stage show, GNRE meticulously recreate every visual detail and every musical note to capture that reckless spirit of the original Guns N Roses legendary live performances. GNRE have the only singer able to deliver the exact same unique vocal style and stage show synonymous with classic Axl Rose, including being the only GnR tribute band frontman able to deliver November Rain on Piano.
Simply put, Gn'Re are the ONLY truly authentic Guns N Roses experience.
Velvet Revival play all the classics from the No.1 hit debut album Contraband, and its multi million selling follow up Liberated - plus a handful of covers Velvet Revolver played on tour, from the guys past bands Stone Temple Pilots.
Line Up
Guns N Roses Experience
Velvet Revival