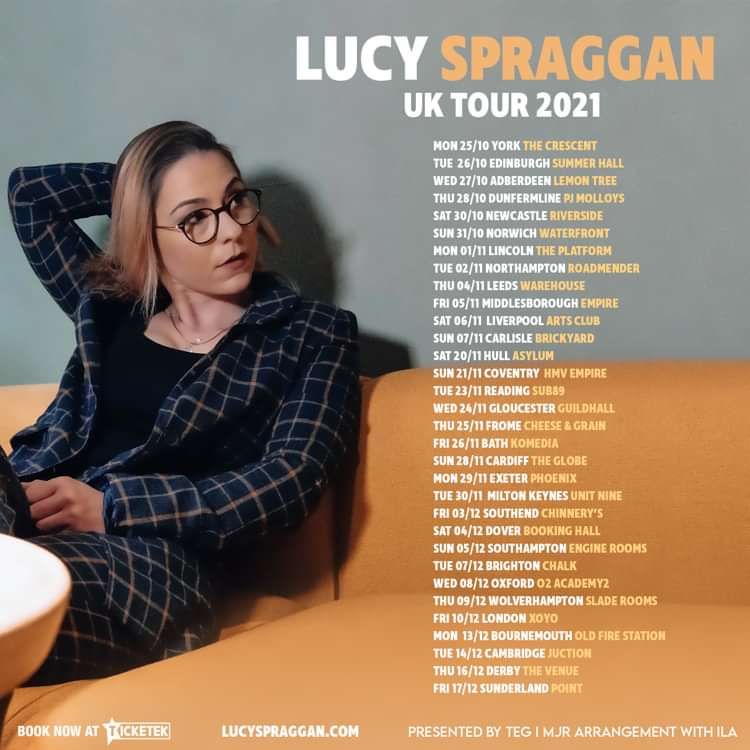 Lucy Spraggan
£19
Entry Requirements: 16+ (ID Required)
Tickets go live on Wednesday 2nd June 2021 at 10am!
It's been eight years since Lucy unknowingly wandered onto the X Factor stage in 2012 to what would be the beginning of an incredible journey, both professionally and personally. She is known as a complex singer songwriter and emotive wordsmith, whose songs and stories hit with great force, straight to the listener's heart and emotions. Whether they are happy or sad, funny or thought provoking- Lucy provides them with a direct link between her songs and their own life stories. For 2021, Lucy hopes to return to touring, including the US and Australia, in support of the release of her new album 'Choices'. She hopes to see the world, and the industry she adores, start to rebuild, so that everyone can get back to their lives and loves.
Tickets go live on Wednesday 2nd June 2021 at 10am!
Line Up
Lucy Spraggan
Lucy Spraggan may not have taken the traditional singer-songwriter route, but after three Top 40 albums and several sell-out tours, it's clear to see she has developed a truly loyal fan base.
Lucy appeared on the X Factor in 2012, since then her audition video has been viewed 35 million times on YouTube. She was also the most Googled musician of 2012, after she came off the show and immediately signed to Columbia Records.
Her debut album Join the Club was a top-ten success and Lucy has enjoyed sell-out tours since then. Her latest record We Are was released on her own label, CTRL Records, after Spraggan opted to take the independent route the second time around. The album just missed out on a top twenty position and was highly acclaimed as one of the best singer-songwriter albums of 2015.
Lucy's music-writing career began with Don Maclean and Kirsty McColl as her major influences, embellished with the folk riffs of Peter, Paul and Mary and taking on the punchy riffs of traditional R and B. A period spent living and playing in New Orleans, sucking in the sounds and sights of that incredible history of music, has brought Lucy to her current style.
Her name is now synonymous with the cross-border sound she calls AFLOP; the melodic middle ground where pop and acoustic folk meet, the toe-tapping interpretations of classic sounds and the harmony-heavy ballads that she pulls from modern rhythm and blues, turning the rattle of rap into sing-along folk-style numbers that are hard to forget.
Lucy has made appearances in some of the most prestigious music venues the UK has to offer, including the O2 Arena, Royal Albert Hall and Manchester Arena, and has also packed out tents at some of the UK's top festivals including T in the Park and V Fest. The intrigue into Lucy Spraggan remains as high as ever.
Lucy embarked on the road solo in 2016, for the first time leaving the band at home for her acoustic tour. She also released a new EP, Home, giving fans a taster of what's to come from her next studio album.
She continues her solo-trawl of the UK with some more small shows in England this summer and the Scottish Highlands towards the end of the year.