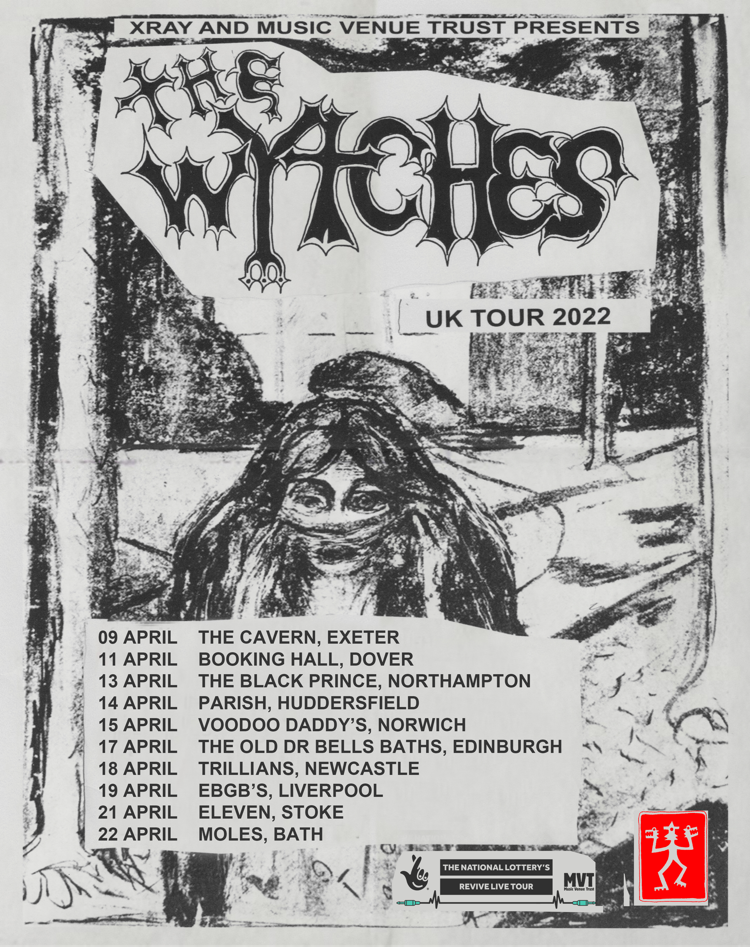 The Wytches
Entry Requirements: 16+ (ID Required)
Buy Tickets
Buy a ticket to this show and bring a friend for free! We've all missed music and mates over the last year. Now is the time to #ComeTogether to #ReviveLive music. Dan Rumsey, Bassist of The Wytches said: "We are really excited to be back out on the road with the Revive Live tour. It's an amazing thing to be a part of because these small venues are very close to our hearts. They helped us become a band and find ourselves when we were first starting out. Without them there would be no bands. That's why the campaign is so important, it allows musicians to go out and do what they love, and in turn keeps the grassroots venues open and running as they should be!" Music Venue Trust (MVT), which represents hundreds of grassroots music venues, has announced The National Lottery's Revive Live Tour will return in January 2022 with tours by a diverse range of artists including KEG, The Wytches, Cultdreams, Ferris & Sylvester, The Kut, Good Karma Club, BLOCS, Strange Bones, Calva Louise and LibraLibra.
Line Up
The Wytches
The Wytches release their third album Three Mile Ditch on their own label Cable Code Records.
This sense of vigour and enthusiasm from Bell about the band's third album is matched by its contents. The album is an explosive collection of 10 tracks that weaves seamlessly between gut-wobbling monster riffs, swampy rock, slick surf, and finely tuned song craft.
Whilst the album is bursting at the seams with hard rock screamers, with hooks and riffs so infectious they burrow deep into the brain, there's also other more nuanced elements at play. Bell's love of classic songwriting from Bob Dylan to Elliott Smith via Big Star's Alex Chilton can be heard reverberating throughout the record; the result is a blend between his honed and subtle knack for song craft and crunchy, eruptive bursts of noise.
As a complete work, Three Mile Ditch shows the band delving further into their songwriting, challenging melodic elements, and carving out a new path for themselves.