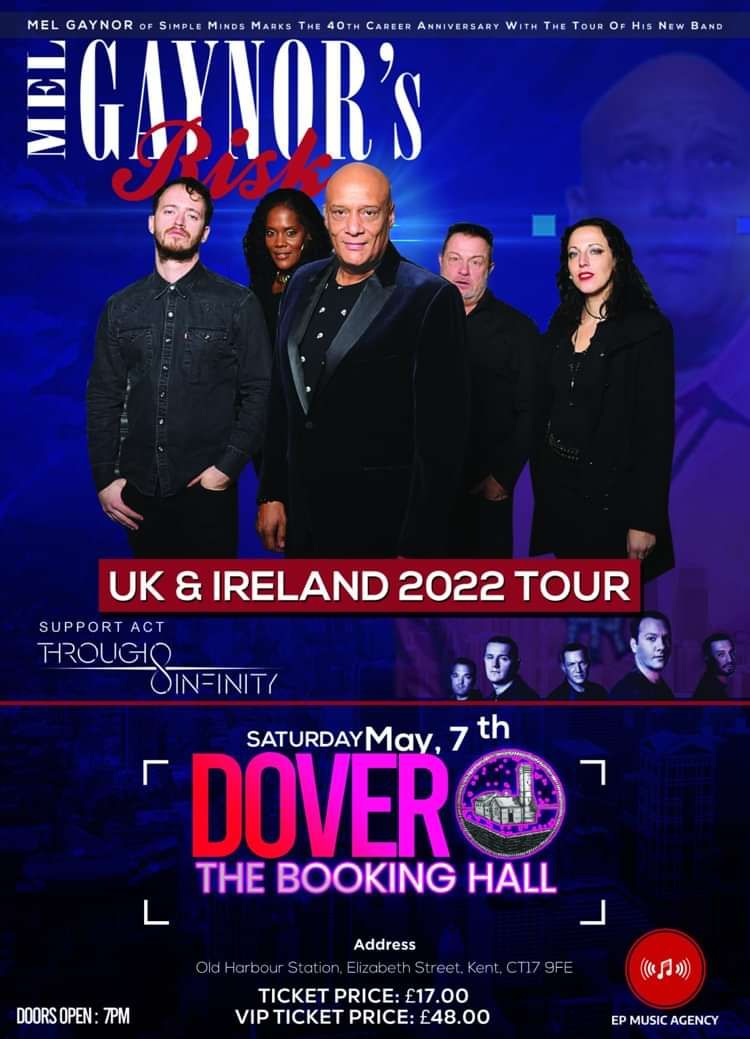 Mel Gaynor's Risk
£17
Entry Requirements: 16+ (ID Required)
Mel has begun his professional music career in the early 80s, soon being recognized as an outstanding drummer and joining at the time emerging Scottish band – Simple Minds. With his substantial contribution, the band recorded their successful singles 'Don't You (Forget About Me)', 'Belfast Child', 'Waterfront', 'Alive And Kicking', etc. Albeit, the word successful might be a deminutive for what reach those songs created for the band, ultimately achieving multi-decennial worldwide fame.
The collaborations with singers and bands whose songs occupy the top charts positions came as a natural extension of his work. He'd ended up recording an ageless compilation of time-proof tracks, for household names like; Elton John, Lou Reed, Tina Turner, Meat Loaf, Samson, Kirsty MacColl, The Associates, Peter Gabriel, The Pretenders, Gary Moore, Jackson Browne, Little Steven, Brian May, The Nolans, Goldie, Robert Palmer, Joan Armatrading, and many, many more…
With a long view from the peak of the music world mountain, and with an experience of playing thousands filled-out clubs, stadiums, and festivals, many might say that he has nothing left to prove.
They just might be right … except;
With songs that had matured in the shelves like bottles of fine red wine, Mel picked the ripest of those fruits and entered the studio to record. He himself as the drummer and the lead vocalist, James Ford on the guitars, and Sarit Black on the bass; the trio formed the core, embellished with the backing vocals from Mel's daughter, Melissa Gaynor, and the tasty keyboard lines from Toby Baker. Working with the most renowned producers, the band announce the release of their debut album on 25th March, next year, a week before this tour whereas they shall promote it in a relatively intimate environment of medium-sized venues. They promise well-crafted live performance and highly enjoyable production.
In essence, what is left to prove for Mel is giving life to the songs that didn't get their chance to make it on any of Simple Minds albums, nor on the covers of his other projects; the songs that are a plethora of appealing themes, remarking the highlights of his personal and music life.
Support from Through Infinity