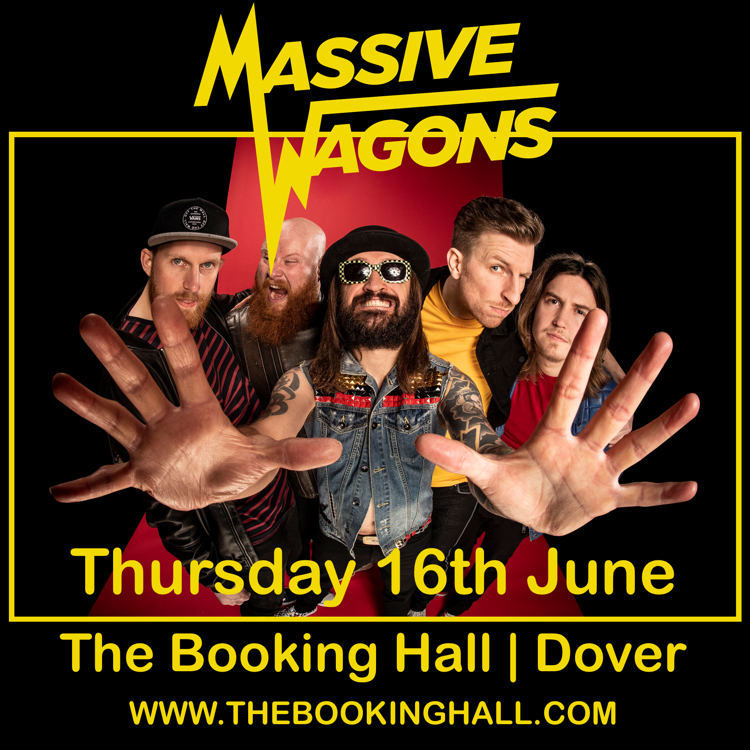 Massive Wagons
£16.00
Entry Requirements: 16+ (ID Required)
Massive Wagons are a young British five piece rock 'n' roll band in the great British Rock tradition. No gimmicks, silly haircuts, stupid clothes or ridiculous claims – just straight up, in your face heavy rock 'n' roll. Their influences include AC/DC and Motorhead.
Line Up
Massive Wagons
Hard hitting rock n' roll from the UK
Like the founding fathers of classic rock and heavy metal before them, Massive Wagons set about building their foundations on the road. Through 250 gigs in 3 years, hitting it hard on and off stage the five piece outfit proved they had the chops to compete with the veterans, and have gained a faithful following the old fashioned way. Guitarist Adam Thistlethwaite says this on the bands origins – "Before the band we were just five mates who loved rock music. We got together and started writing our own stuff – we took on every gig we were offered and became a slick live outfit pretty quickly. The live thing was, and still is what it's all about... writing good songs and performing them well live, then adding that extra spark of energy. There's no pretence in what we do at all"
On the back of their stellar live reputation, Massive Wagons signed to Off Yer Rocka in 2014, joining a growing roster alongside The Quireboys and Bonafide. The eleven track album titled 'Fight The System' was released worldwide on the 4th August 2014.
Recorded at Axis Studio late 2013 and produced by the exceptional talent of Matt Elliss (Terrorvision/Black Spiders) the album was released to critical acclaim in the UK and Europe, propelled by the popularity of the bands first official single 'Red Dress', which featured on Classic Rock magazines 'Heavy Rotation' section.
"Monstrous slabs of melodic hard rock… must see live!" - Dave Ling
"A fantastic album wielding three guaranteed radio hits and a lot of good songs" – Metal Hammer
Many new friends were made in the 20 date UK tour that followed, alluding to Massive Wagons rising popularity. The band were invited to make festival appearances in Ibiza and Bloodstock Open Air, as well as returning to Hard Rock Hell in November, where 1800 people crammed in to watch the bands cumulative performance.
"Within minutes of Massive Wagons appearing on stage I was addicted to their excited demeanour and no bullshit rock n' roll. The capacity crowd seemed to know they were witnessing something special" – Powerplay (@Hard Rock Hell)
2015 sees The Wagons gaining momentum. The bands first live album, brought on by fan demand, is currently in post-production with a release date expected to be announced soon. Vocalist Barry Mills comments – "We wanted to get that raw energy of a Wagons show out there for folk who've yet to see us. People always say to us 'you look like you're having a blast on stage', well it's true, we really are"
Writing for the follow up to 'Fight The System' is nearing completion, with recording sessions beginning in the summer - following a short UK tour in July and appearances at the Steelhouse Festival and Legends of Rock. Thistlethwaite surmises the bands current mindset -
"We've done a lot in a short time, but genuinely feel now is only the beginning. As with everything in life you get out what you put in, and Massive Wagons give it everything"
Massive Wagons music is available through all major music retailers including iTunes, Amazon, HMV and Spotify