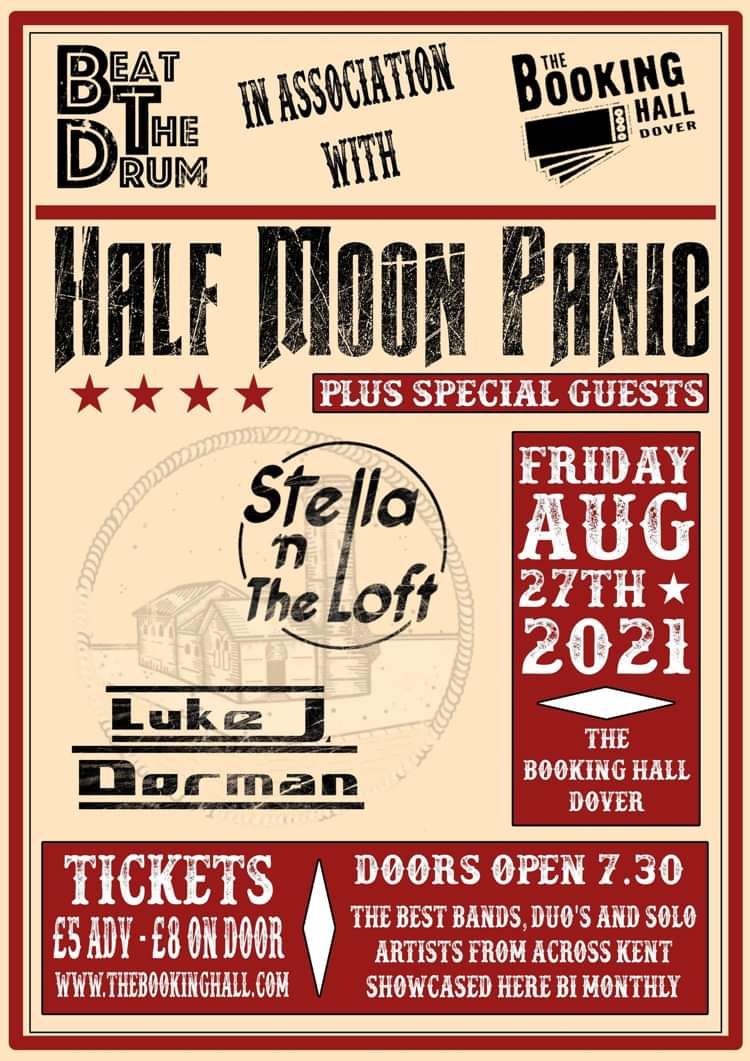 Beat the Drum: Local Showcase
£5
Entry Requirements: 16+ (ID Required)
Beat the Drum Promotions bringing local music to The Booking Hall Dover!
Half Moon Panic (HMP) was formed in April 2019 for a one-off show to celebrate Taj's birthday. Paul Cook from the Paul Cook Blues Band was at that show and immediately asked the guys if they could play at his summer festival. We couldn't resist, so Taj and Gerard went on the hunt for a permanent drummer. Russ Hammerhead Steven's was that drummer. As a 3 piece power trio, HMP played the prestigious 'International Jazz and Blues' festival in Rye. George Mian also played the guitar at several shows. The band decided that it needed an additional voice and Cheryl Taylor joined on vocals supporting Gerard. Cheryl went on to form her own project and the band's disappointment was short-lived as Ophelia Mancini stepped into the frame to provide beautiful harmony vocals. During 2020, a year none of us will forget, the band solidified and came together to write the debut album.
Stella n 'The Loft are a Kent based originals band, performing as a duo or as a full band. One of the busiest local bands around, Stella n' The Loft offer a setlist full of folk, blues and modern self penned tracks that will certainly get your toe tapping! Prevalent on the local festival scene, the band have well established their names in the local scene.
Luke has been a self taught musician in Broadstairs since playing with Doug Hudsons 'Hot rats' at a packed "The Albert" pub during a Broadstairs Folk Week when he was just 13 years old. He's regularly played in local covers bands on the local circuit, along with releasing his first solo album back in 2010. This was a huge success, and he went on to form and start the Local originals band "Meister" . Here his world was opened up to touring and playing festivals and after 6 years the band has been put on hold due to members leaving and family lives taking lead. Since the band has been on hold, Luke has been working on his back catalogue of songs and accompanying local musicians to work on these with him. Working alongside local film and video producer talent Lee Mcqueen, there are some new and fantastic music videos to be released this year going into the next. These are exciting times to come if you follow his work