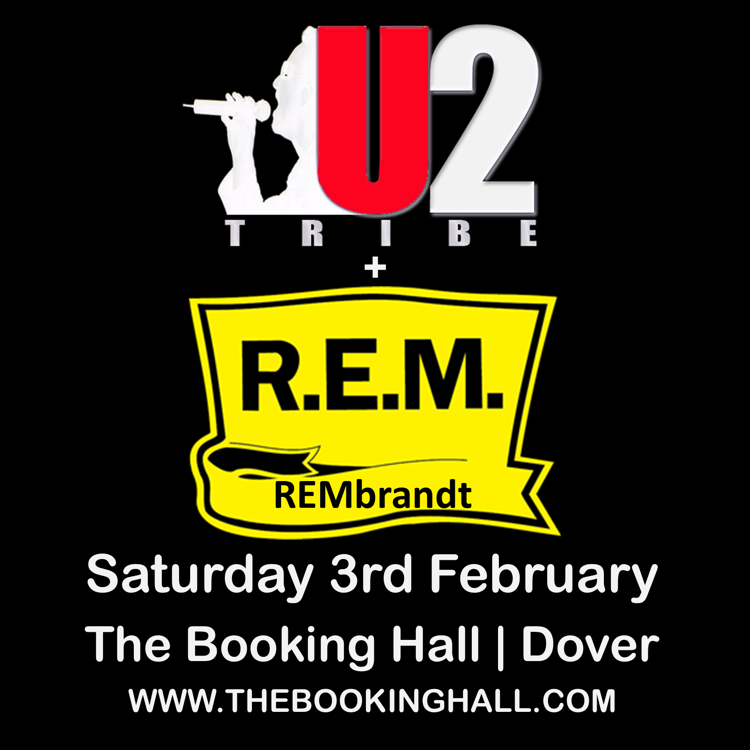 U2 Tribe + REMbrandt
U2 Tribe + REMbrandt : REM Tribute
£15
Entry Requirements: 16+ (under 16's to be accompanied by an adult 18+)
Buy Tickets
An authentic U2 tribute band is not an easy thing to achieve and as dedicated fans, U2 TRIBE replicate the sound, energy, look and feel of arguably the biggest, the most successful and probably the best band in the world.
U2 Tribe will take you on a journey that is the history of U2's music, playing some of the cult classics like 'Electric Co' and 'Out of Control', to the passion of songs like 'Sunday Bloody Sunday', to the stadium staples of songs like 'Where the Streets have no name' and 'Beautiful Day
You probably know more R.E.M. songs than you realise, that's pretty typical, but how could you not? Even if you ignore TV and radio, there are over 85 million copies of their albums on the planet. REMbrandt formed in 2014, and have been playing all over the UK since. Keeping the music of REM live and in a venue near you.
Line Up
REMbrandt : REM Tribute
REMbrandt : REM TRIBUTE
REMbrandt are a 100% live, 5 piece band, playing the hits and album tracks of the American band R.E.M. The band has been around for several years now, playing venues and festivals throughout the south of England, concentrating on capturing the spirit and presentation of R.E.M.s best and varied back catalogue.
The band also plays songs by other artists that R.E.M. themselves covered on stage, such as Iggy Pop, Neil Young, Elvis Costello and David Bowie, and as such our set can be broadened to appeal to not just R.E.M. fans.
You can find full details on the band, our ever expanding setlist, photos, demos and videos on our website, www.remgb.com. or visit us on twitter, facebook or soundcloud.
2018 dates now being booked!